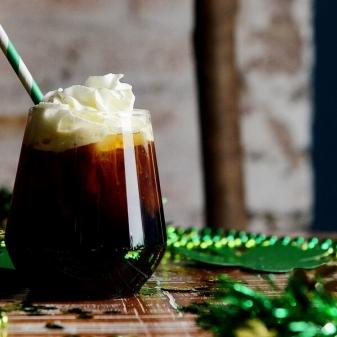 Ingredients
1 1/2 to 2 ounces Irish whiskey,
4 ounces fresh-brewed coffee
1/2 to 1 ounce sugar syrup
Heavy cream
Directions
Whip the cream until thick, but not stiff.
Combine the whiskey, sugar syrup and coffee In a pre-warmed toddy mug, irish coffee glass or sturdy wine glass (for more richness of flavor without added sweetness, try making the simple syrup using brown sugar or demerara sugar).
Stir to mix and gently spoon between 1/2 - 1 inch of cream atop the coffee mixture.
More delicious cocktails