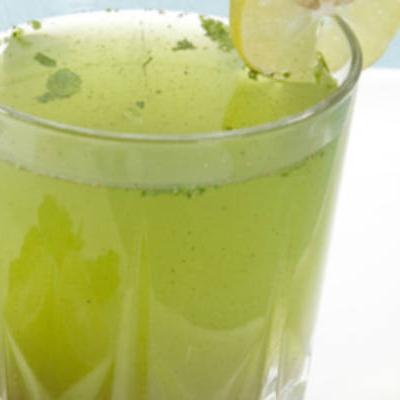 Ingredients
half cup mint leaves
6 tablespoon lemon juice
2 teaspoon black salt
8 cup water
2 tablespoon cumin seeds
ice cubes
1/2 cup coriander leaves
2 tablespoon ginger
4 tablespoon sugar
1 pinch asafoetida
2 tablespoon tamarind seedless
1 teaspoon salt
Directions
Clean and wash the mint and coriander leaves. Then finely chop the leaves.
Take a large glass bowl and add chopped mint leaves, chopped coriander leaves, seedless tamarind, roasted cumin seeds, chopped ginger in a blender jar along with asafoetida, salt, black salt, sugar, and lemon juice.
Add four cups of water in the jar and blend the mixture until all the ingredients are completely blended together.
When done, strain the mixture into a bowl and discard the roughage remaining of the mixture. Meanwhile, arrange the glasses on the clean and dry counters.Pour the mixture equally in the glasses and also pour the remaining water in the glasses, mix well. Also, put the 2-4 ice cubes in the glasses. Serve immediately.
More delicious cocktails