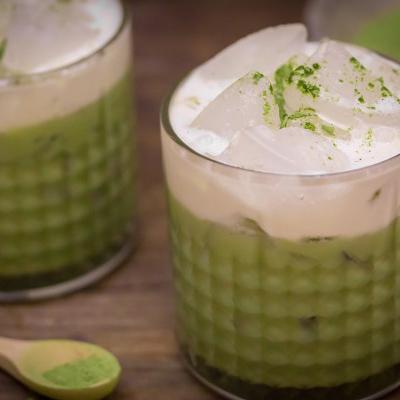 Ingredients
2 cup milk
2 cup sugar
3 tablespoon Numi Citrus Matcha
1 bean vanilla (halved & scraped)
2 cup vodka
1 quart fresh cream
ice
Directions
Create a matcha green tea liqueur.
Add 2 cups of whole milk, 2 cups of sugar, the vanilla bean (seeds and pod), and 3 tablespoons of Numi Citrus Matcha to a small pot.
Warm the mixture over a medium low heat and whisk until the sugar is completely dissolved and all ingredients are combined (except the vanilla bean pod).
Remove from heat and remove the pod. Let the mixture cool for about 30 minutes.
Transfer the green tea mixture to a pitcher and add in 2 cups of vodka. Mix well.
Overfill an old fashioned glass with ice.
Add 2 parts matcha green tea liqueur and then float about 1 part fresh cream over the top.
Dust with some of the matcha powder. Makes about 6 cocktails.
More delicious cocktails