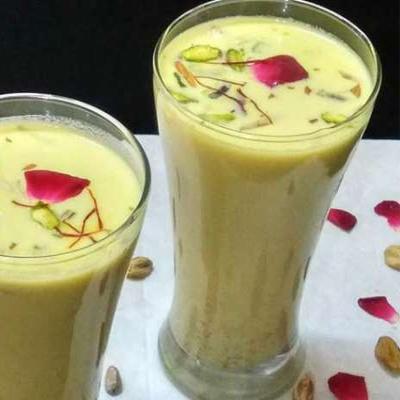 Ingredients
2 cups Half and Half Milk
2 cups Whole Milk
1 tablespoon Rose Water
1/4 cup Sugar
3/4 cup Water
1 tablespoon Cashews
1 tablespoon Melon Seeds
1/2 teaspoon Saffron Strands
1/2 teaspoon Cinnamon Powder
1/2 teaspoon Nutmeg Powder
1/2 teaspoon Rose Petal Spread (Gulkand)
1.5 teaspoons Fennel Seed Powder
1.5 teaspoons Cardamom Powder
1/2 teaspoon Poppy Seeds
12 pieces Almonds
15 pieces Pistachios
3/4 teaspoon Black Peppercorns
Directions
Boil milk in a bowl and soak saffron strands in it. Allow it to sit for 15 - 20 minutes. Soaking saffron strands in hot milk releases its color and flavor.
Stir it with a spoon and milk will have a beautiful pale yellow color. Set it aside.
Let's assemble our thandai masala ingredients. Feel free to adjust spices according to taste.
Add all the nuts and spices to a grinder.
Grind spices to their powdered form. Set it aside.
You can ground the spices in a motor and pestle too.
Boil milk in a heavy bottomed pan.
Stir in the nuts and spices one by one onceit comes to a full boil.
Whisk so that no lumps remain. Add sugar and keep stirring the liquid. Give it a good boil and take it off the flame. Allow it to cool completely.
Stir in saffron flavored milk, rose spread and rose water. If no rose spread available add 2 tablespoons of rose water.
Allow it to sit for a while (an hour or more) so that it can soak in all the flavors. Later sieve it through a strainer, add water and refrigerate this drink for at least 3-4 hours or until chilled.
Thandai tastes best when served chilled.
More delicious cocktails