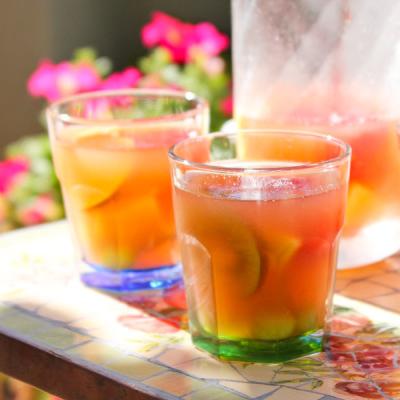 Ingredients
3 Plum
1 Orange Juice
1/2 Seedless Watermelon
1/4 Fresh and peeled pineapple
1 Kiwi sliced
1 bootle Rose wine
1 cup Frozen green grape
Directions
Preferably the night before, but at least an hour before serving prepare the watermelon and grapes and put in freezer.
Use a melon baller or small ice cream scoop to make balls of watermelon and place in a freezer container in a single layer and freeze.
The watermelon balls and frozen grapes will keep the sangria at a nice temperature without diluting it.
Don't throw away the juice left in the watermelon! Reserve it in a jar to add to the plum/orange juice.
Slice the plums in half and remove the pit over your blender to catch the juices.
Whirr a few times to puree. Add the orange juice and give it a whirl to combine.
You should have about 1 cup of juice. Strain through a fine strainer (or when you're ready to make the sangria) to remove some of the pulp. If you own a juicer, you can juice the plums.
And for the sangria, put 6-7 watermelon balls, pineapple triangles (or cubes), and sliced kiwi into a pitcher
Add 1/2 cup of the strained plum/orange/watermelon juice and the entire bottle of rose.
Stir gently and refrigerate for at least an hour to let the flavors mingle. Reserve the remaining juice for another batch.
To serve, add grape "ice" to each glass (cocktail glasses, wine glasses, or goblets depending on the mood you're going for). Serve and enjoy!
More delicious cocktails