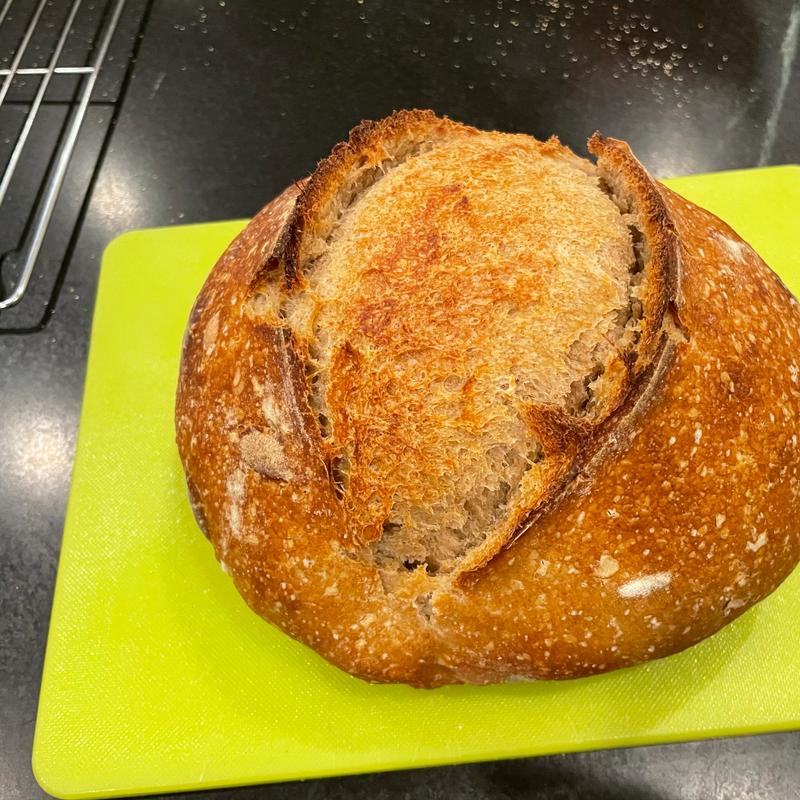 2 loaves

23 hours

1 hour

My Rating: ★★★★
Ingredients
811 grams bread flour
152 grams whole wheat flour
51 grams whole rye flour
730 grams water
18 grams salt
38 grams sourdough starter
38 grams stoneground whole wheat flour
38 grams bread flour
76 grams water
38 grams ripe sourdough starter
773 grams bread flour
114 grams stoneground whole wheat flour
51 grams whole grain rye flour
603 grams water
Mix (1:00 p.m.)
50 grams reserved water
18 grams fine sea salt
190 grams ripe levain (from step 1)
Directions
Levain (8:00 a.m.)

In a small container, mix the following and keep at 77°F (25°C) for 5-6 hours.

Autolyse (12:00 p.m)

In a medium mixing bowl, add the following and mix until no dry bits remain. Cover the bowl and let rest for 1 hour.

Transfer your dough to a bulk fermentation container and cover.

Bulk Fermentation (1:10 p.m. to 5:10 p.m.)

Divide and Preshape (5:10 p.m.)

Lightly flour your work surface and scrape out your dough. Using your bench knife, divide the dough in half. Lightly shape each half into a round shape. Let the dough rest for 25 minutes, uncovered.

Shape (5:35 p.m.)

Shape the dough into a round (boule) or oval (batard)—place in proofing baskets.

Rest and Proof (5:40 p.m. to 9:30 a.m. the next day)

Cover proofing baskets with reusable plastic and seal shut. Let sit out on the counter for 20 minutes. Then, place both baskets into the refrigerator and proof overnight.

Bake (Preheat oven at 8:30 a.m., bake at 9:30 a.m.)

Preheat your oven with a combo cooker or Dutch oven inside to 450°F (230°C).

When the oven is preheated, remove your dough from the fridge, score it, and transfer to the preheated combo cooker. Place the cooker in the oven, cover with the lid, and bake for 20 minutes. After this time, remove the lid (you can keep it in the oven or remove it) and continue to bake for 25 minutes longer. When done, the internal temperature should be around 208°F (97°C).

Let the loaves cool for 2 hours on a wire rack before slicing.
Notes
While the recipe calls for 16 hours of total proof time, you could extend this time and bake the loaves in the morning, afternoon, or even the evening on day two. Leave the proofing dough in the fridge until ready to bake.
More delicious recipes