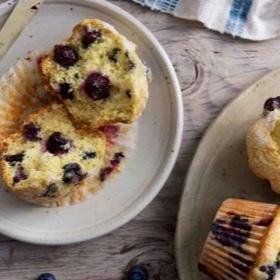 12 muffins

20 mins

18 to 24 mins
Ingredients
2 1/4 cups (269g) King Arthur Unbleached All-Purpose Flour
1 1/2 teaspoons baking powder
1/2 teaspoon baking soda
1/2 to 3/8 teaspoon salt, to taste
1/4 cup (50g) vegetable oil or 4 tablespoons (57g) unsalted butter, at room temperature
3/4 cup to 7/8 cup (149g to 174g) granulated sugar*
2 large eggs
2 teaspoons vanilla extract
1/2 cup (113g) sour cream or yogurt (full-fat will yield the most tender muffins)
1 1/2 cups (213g) blueberries, fresh or frozen
coarse sparkling sugar, for garnish, optional
Directions
Preheat the oven to 375°F. Line a muffin pan with papers, and grease the papers.

Measure the flour by gently spooning it into a cup, then sweeping off any excess. In a medium-sized bowl, whisk together the flour, baking powder, baking soda, and salt, then set aside.

In a large bowl, beat the butter or vegetable oil and sugar with a hand-held or stand mixer, until light and fluffy. Start the mixer at low speed until the ingredients are incorporated, then gradually increase speed to medium-high. If using butter, the mixture should turn almost white in color; if using oil, the mixture should look frothy.

Scrape down the bowl to make sure all the butter or oil is incorporated, then add the eggs one at a time, beating well after each addition.

Add the vanilla and sour cream or yogurt, and mix until incorporated.

Add the dry ingredients and mix on low speed just until the batter is smooth. The batter will be very thick, almost like cookie dough.

Fold in the berries by hand. If you use frozen berries, the batter will become even stiffer; don't worry about it, it's fine.

Scoop the batter into the prepared muffin cups, using a heaping 1/4-cup for each. Again, the batter will be thick and stiff; don't expect it to settle. Sprinkle with regular granulated or coarse white sugar, if desired.

Bake the muffins for 18 to 24 minutes, until a cake tester inserted in the center of one comes out clean.

Remove them from the oven, and take them out of the baking pan as soon as you can and transfer to a rack to finish cooling. (Leaving hot muffins in the pan creates steam that will toughen the muffins as they sit.)

Store leftovers for a couple of days at room temperature in an airtight container, or freeze for up to 1 month.

Tips from our Bakers

If you're using frozen berries, mix them into the batter while still frozen. They'll turn the batter a streaky blue color. They'll also increase the baking time by as much as 5 minutes.

To make handling baked muffins easier, use a potholder to tilt the hot pan at a 45° angle. The muffins will tilt enough that you can lift them out of the cups easily. Place them on a rack to finish cooling.

You can use any kind of fresh berry, dried fruit, diced peaches, bananas, or nectarines in this recipe. Canned blueberries are fine, but drain them well first and make sure you have 1 3/4 cups (273g) of berries.
More delicious recipes