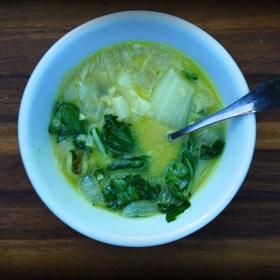 Ingredients
1 small onion, sliced
1 big bunch bok choy, leaves and stems roughly chopped and separated
1 tsp garlic, minced
1 tbsp either curry or red or green chili paste 2 cups coconut milk
salt, to taste
Directions
Add onions, bok choy stems, garlic and chilli paste to coconut milk in a deep pan, and let it come to a boil over medium-heat. Stir ocassionally to allow garlic and chilli paste to blend well with the coconut milk.

Add bok choy leaves, season with salt, and turn off the heat. Cover the pan and let it sit for a few minutes till the leaves begin to wilt.

This recipe was adapted from the recipe that appear on the blog Hooked on Heat.
More delicious recipes