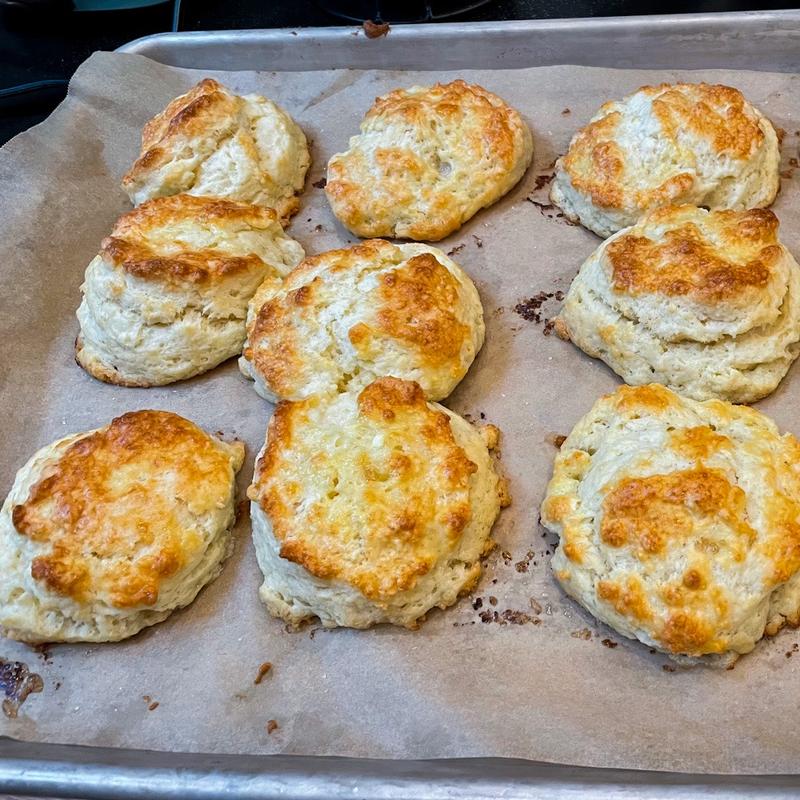 Ingredients
3½ cups (438 grams) White Lily Self-Rising Flour
2 tablespoons (24 grams) granulated sugar
1/3rd tablespoon (3 grams) salt
½ teaspoon (2.5 grams) baking soda
1¼ cups (284 grams) cold unsalted butter, cubed
1 cup (240 grams) whole buttermilk, chilled
1 large egg (50 grams), lightly beaten
Flaked sea salt, for sprinkling
Softened butter and honey, to serve
Directions
Preheat oven to 425°F (220°C). Line a baking sheet with parchment paper.

In a large bowl, whisk together flour, sugar, kosher salt, baking powder, and baking soda. Using a pastry blender, cut in cold butter until mixture is crumbly. Stir in cold buttermilk until a shaggy dough forms.

Turn out dough onto a lightly floured surface. Pat dough into a rectangle, and cut into fourths. Stack each fourth on top of each other, and pat down into a rectangle again. Repeat procedure 3 more times. Pat or roll dough to 1-inch thickness. Using a 2½-inch round cutter dipped in flour, cut dough without twisting cutter, rerolling scraps as necessary. Place biscuits 2 inches apart on prepared pan. Freeze until cold, about 10 minutes. Brush with egg wash, and sprinkle with sea salt.

Bake until golden brown, about 15 minutes. Serve warm with softened butter and honey.
More delicious recipes