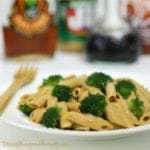 Ingredients
12 ounces whole grain penne (1 package)
2-3 cups fresh broccoli florets (you can substitute frozen in a pinch)
¾ cup peanut butter
¾ cup warm water
1 ½ tablesppons pure maple syrup
1 ½ tablespoons soy sauce
1 teaspoon ground ginger
½ teaspoon sriracha sauce (or more, if you like a bigger kick!)
12 ounces whole grain penne
2-3 cups fresh broccoli florets
¾ cup peanut butter,
¾ cup warm water,
1 ½ tablesppons pure maple syrup,
1 ½ tablespoons soy sauce,
1 teaspoon ground ginger,
½ teaspoon sriracha sauce
Directions
Cook the pasta to al dente, according to package directions.

Steam the broccoli florets until tender crisp. (In a microwave-safe bowl, add the florets and a tablespoon or two of water, cover with plastic wrap with an opening to let steam out, and microwave for 2-3 minutes, then 1 minute at a time until desired texture is reached)

Combine the peanut butter, water, maple syrup, soy sauce, ginger, and sriracha sauce and mix until smooth.

Combine the sauce with the pasta and broccoli and toss to coat.
More delicious recipes