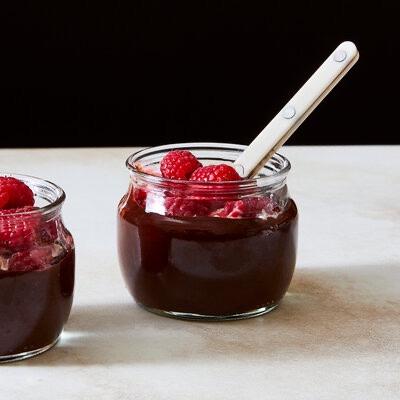 2 servings

25 minutes

My Rating: ★★★★★
Ingredients
1 cup/240 milliliters whole milk
1 large egg yolk
5 tablespoons plus 1 teaspoon/75 grams granulated sugar
5 tablespoons/30 grams Dutch-process cocoa powder
1 tablespoon cornstarch
Pinch of kosher salt
1 ½ teaspoons vanilla extract
½ cup/80 grams fresh raspberries
⅓ cup/80 milliliters heavy cream
Directions
Add the milk and egg yolk to a measuring cup. Whisk to combine.

Add 5 tablespoons sugar, the cocoa powder, cornstarch and salt to a medium saucepan, and whisk to combine, breaking up any lumps. Whisk the milk and egg yolk mixture into the sugar mixture until smooth.

Set the pan over medium-low heat and cook the mixture until it thickens and starts to bubble, stirring the mixture constantly with a rubber spatula and making sure to scrape the corners and bottom of the pan. Once it bubbles, cook for an additional minute until thick and creamy, taking extra care to scrape the bottom and sides of the pan to avoid scorching the mixture, 6 to 8 minutes total. If you do get a few small lumps, whisk the mixture vigorously for a few seconds to smooth them. Stir in 1 teaspoon vanilla extract.

Spoon the pudding into two small serving bowls or glasses, and press a piece of plastic wrap on the surface of each pudding to prevent a skin from forming. Chill for at least 1 hour and up to 2 days.

When you are ready to serve the pudding, make the raspberry cream: Combine 1/2 teaspoon sugar with about 4 raspberries in a small bowl. Mash them together with a fork and macerate. In a medium bowl, whisk the cream with the remaining 1/2 teaspoon sugar and 1/2 teaspoon vanilla to medium peaks. Dollop the mashed raspberries over the top of the whipped cream and fold a few times. (The mixture should be streaky.)

Top the pudding with the remaining raspberries and a dollop of the whipped cream. Serve immediately.
More delicious recipes