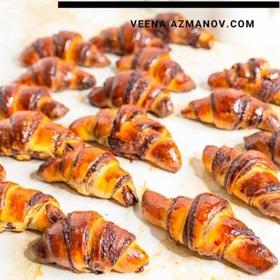 Ingredients
Dough
4 cups (500 g) All-purpose flour
2 1/4 tsp (7 g) Instant dry yeast (1 envelop)
1/4 cup (50 g) Sugar
1/2 cup (113 g) Butter (1 stick) unsalted, room temperature
1 Egg whole (large)
2 Egg yolks
4 oz (113 g) Cream cheese or sour cream
1/3 cup (80 ml) Milk
1 tbsp Vanilla
1 tsp Salt
Chocolate filling
7 oz (200 g) Dark chocolate
1/2 cup (113 g) Butter (1 stick) unsalted, room temperature
Cocoa Paste filling (alternative to real chocolate filling)
1 cup (90 g) Cocoa Powder
2 cup (240 g) Powdered Sugar
1/4 cup (60 ml) Melted Butter (1/2 stick)
1 tbsp Vanilla
2 tbsp Milk up to 4 tbso or water
EGG WASH
1 Egg
2 tbsp Water
SUGAR SYRUP
1/2 cup (100 g) Sugar
1/4 cup (60 ml) Water
Directions
Dough

In the mixer bowl with a dough hook, combine milk, yeast, sugar, egg, egg yolks, sour cream, and vanilla. And use a whisk to combine well.

Then, add the flour and salt – combine well with a spatula.

Start the mixer on and knead until everything forms a nice ball.

Then knead for 2 minutes more.

After 2 minutes, start adding the room temperature butter – one cube at a time.

Knead until all the butter is incorporated. Then knead 2 minutes more.

This should now be a beautifully soft, elastic and shiny dough (see video).

Place in an oiled bowl and cover with cling wrap.

Leave the dough to rise on the counter for an hour. Then place it in the fridge for another hour. (The cold dough is easier to work with)

Chocolate filling

Combine chocolate and butter in a microwave-safe bowl.

Melt for a minute or more until all the chocolate is melted.

Leave at room temperature for the chocolate to cool.

It works best if the chocolate cools but is still in spreadable consistency.

Sugar syrup

Combine the sugar and water in a saucepan.

Heat on medium-low until all the sugar is melted.

Then, cool a minute more until syrup consistency.

Set aside until ready to use.

Laminate dough

Remove the dough from the fridge.

Lightly dust a work surface with flour and roll the dough to a rectangle approximately 10 x 20 cm long.

Spread the chocolate over 2/3 of the rectangle.

Fold the rectangle like a book. Start with the third that has no chocolate and fold it over the center half then bring the other side over the first (see video).

Place it over a baking tray, cover with cling wrap and let chill for an hour.

Proof and bake

Cover the formed rugalach with a clean kitchen cloth and let proof for an hour.

Then, preheat the oven at 170C / 380 F.

For the egg wash, combine the egg and water.

Brush the rugelach with this egg wash.

Bake in the preheated oven for about 15 to 18 minutes on until golden.

When baked, immediately brush with sugar syrup.

Then transfer to a cooling rack to cool completely.

Enjoy!
More delicious recipes