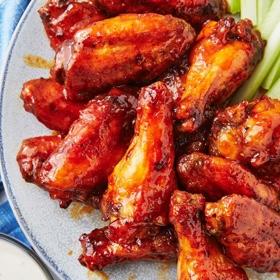 Ingredients
2 lb. chicken wings
2 tbsp. Vegetable oil
1 tsp. garlic powder
Kosher salt
Freshly ground black pepper
1/4 c. hot sauce (such as Frank's)
2 tbsp. honey
4 tbsp. butter
Ranch dressing, for serving
Carrot sticks, for serving
Celery sticks, for serving
Directions
Preheat oven to 400° and place a wire rack over a baking sheet. In a large bowl, toss chicken wings with oil and season with garlic powder, salt, and pepper. Transfer to prepared baking sheet.

Bake until chicken is golden and skin is crispy, 50 to 60 minutes, flipping the wings halfway through.

In a small saucepan, whisk together hot sauce and honey. Bring to simmer then stir in butter. Cook until butter is melted and slightly reduced, about 2 minutes. Heat broiler on low. Transfer baked wings to a bowl and toss with buffalo sauce until completely coated. Return wings to rack and broil—watching carefully!—until sauce caramelizes, 3 minutes. Serve with ranch dressing and vegetables.
More delicious recipes