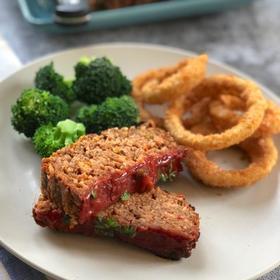 Yield: 10 slices

15 minutes

1 hour 35 minutes
Ingredients
1 tablespoon olive oil
1 medium onion, very finely chopped
1/2 medium bell pepper, finely chopped
2 to 3 cloves garlic, minced
16-ounce package Beyond Meat's Beyond Beef Plant-Based Ground (or see red bean and walnut alternative in Notes)
1 cup tomato sauce
2 tablespoons maple syrup or agave
2 tablespoons soy sauce or tamari
1 tablespoon barbecue seasoning blend (see Note)
2 teaspoons Italian seasoning
2/3 cup quick-cooking oats (oatmeal)
1 cup fine breadcrumbs
 (see Note)
Freshly ground pepper to taste
GLAZE TOPPING (OPTIONAL BUT HIGHLY RECOMMENDED)
1/2 cup tomato sauce
1 tablespoon soy sauce or tamari
1 tablespoon maple syrup or agave
1 teaspoon barbecue seasoning blend
Directions
Preheat the oven to 375º F.

Heat the oil in a medium skillet. Add the onion and sauté until translucent. Add the bell pepper and garlic and continue to sauté until all are golden.

In a mixing bowl, combine the skillet mixture with all the remaining ingredients (other than the optional glaze topping). Work together thoroughly with a large spoon or clean hands.

Transfer the mixture to an oiled 9-by-5-by 3-inch loaf pan (metal is preferable, though ceramic works, too. Glass is less desirable) and pat in. If you think your loaf pan will be sticky, line the bottom with a fitting piece of parchment. Or, if you want to be able to easily lift the loaf out of the pan, cut a piece of parchment to fit the bottom, sides, and enough to make "wings" on the side of the pan.

Cover with foil and bake for 45 minutes.

If you're using the optional glaze, combine the ingredients in a small bowl and stir together. After the initial 45 minutes of baking time, spread evenly on top of the loaf.

Whether or not you're using the glaze, bake for 20 to 30 minutes longer, uncovered, or until the loaf looks firm and you can see browning around the edges.

Remove from the oven and let the loaf stand for about 15 minutes. Loosen the loaf around the edges with a knife. Use a sharp knife to cut into 8 to 10 slices. Or if you've made parchment "wings," carefully lift out of the pan and set on an oblong serving plate before cutting.
Notes
I made this exact recipe using red beans and walnuts instead of the Beyond® Ground and it tastes almost exactly the same — a whole food option at a fraction of the cost! Simply pulverize 1/2 cup walnuts in a food processor until just about powdered. Add a 15-ounce can red beans, drained and rinsed, and pulse on and off until the mixture has the texture of ground. Then add to the mixing bowl in place of the Beyond Ground. I'll have a separate post for this formulation soon!
Barbecue seasonings are available in the spice section of most supermarkets. One of the best-known brands is McCormick®. Varieties include smokehouse maple, mesquite, chipotle, and there are lots of others. Discover your favorites, and keep a couple on hand.
If you don't have breadcrumbs on hand, you can make them by whirling two slices of whole-grain bread in the food processor fitted with the metal blade. That should make about a cup.
As shown, you can top with some finely chopped fresh herb or greens of your choice — parsley, cilantro, scallions, or baby spinach.
Leftovers make delicious sandwiches!
More delicious recipes