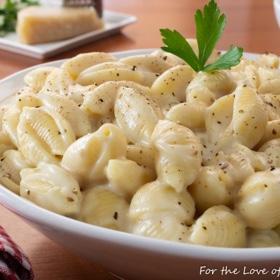 Ingredients
12 oz shell pasta, cooked al dente
2 tbsp butter
2 cloves of garlic, minced
2 tbsp flour
1 cup chicken broth Side Note: Use vegetable broth for a vegetarian version
1 cup whole milk
3/4 cup fresh parmesan, finely grated
Pinch of fresh nutmeg, grated
Sea salt and freshly cracked pepper, to taste
Directions
Cook the pasta in a large pot of salted boiling water to al dente, per package instructions. Drain the pasta reserving 1/4 cup of the pasta cooking water.

Side Note: Don't overcook the pasta because it will cook a bit more in the sauce.

Make the creamy garlic parmesan sauce while the pasta is cooking by heating the butter in a large saucepan over medium heat.

Add the garlic to the melted butter and cook, stirring constantly, for 1 minute. Add the flour and cook, stirring constantly for 1-2 minutes.

Slowly whisk in the chicken broth and milk until creamy and smooth.

Gradually add the parmesan cheese while whisking. Add the nutmeg then simmer while stirring occasionally for a few minutes while the pasta finishes cooking.

Add the drained pasta to the creamy garlic parmesan sauce along with a bit of reserved cooking water, if needed, and toss to coat evenly.

Remove from the heat and allow to sit for a couple of minutes to allow flavors to mingle and the sauce to thicken. Taste the sauce and season with sea salt and freshly cracked pepper, to taste.

Serve immediately with fresh parmesan on the side. Enjoy.
More delicious recipes