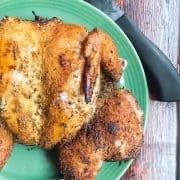 6 servings

1 d 30 mins

1 hr
Ingredients
1 whole chicken
For the Dry Brine
1 tbsp baking powder
¼ cup salt
For the Rub
dried thyme
ground mustard
ground onion powder
ground garlic powder
ground sage
¼ cup olive oil
Directions
About 24 hours before you want to cook the bird, combine salt and baking powder in a small bowl. Remove the spine from the chicken and set aside. Taking a pinch of salt at a time, hold your hands about 6 inches above the bird and liberally apply to the entire bird, on all sides. Rub into the chicken. Refrigerate uncovered for up to 2 days, a minimum of 24 hours.

When you're ready to cook, either preheat the Traeger or the oven to 400 degrees. Cooking times should not vary dramatically between the two.

Remove the chicken and on a cutting board, apply liberal amounts of all the seasonings listed under "Rub". The quantity depends on the size of the bird, but you want a lot of the seasonings on the bird. Apply under skin as well if you are able. Use olive oil liberally to help distribute the seasonings.

Cook for 45 minutes to 1 hour, until the internal temperature of the bird reaches 160 for the breasts and 165 for the thighs.

Let rest for 10 minutes and then carve and serve!
Notes
If you are sensitive to salt, you can wipe off the salt mixture before applying the rub.
More delicious recipes