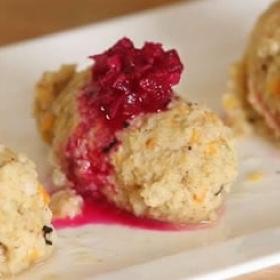 Ingredients
Fish Ingredients:
1 carrot
1 onion
1 lb. (450 grams) ground carp
2 tbsp. sugar
1 tbsp. ground black pepper
1 tbsp. kosher salt
1 cup matzo meal (approximately)
2 eggs
Broth Ingredients:
12 cups (3 liters) water
4 bay leaves
5 whole peppercorns
½ cup sugar
1 tbsp. cracked black pepper
1 onion
Directions
Place the carrot and onion into a food processor and grind finely.

Mix the carrot and onion mixture into the ground carp.

Add in the salt, sugar, pepper, eggs and matzah meal. Mix and form into balls.

Place all the broth ingredients into a pot and bring to a boil.

Drop in the fish balls and cook for 1 hour.

Refrigerate until serving.
More delicious recipes