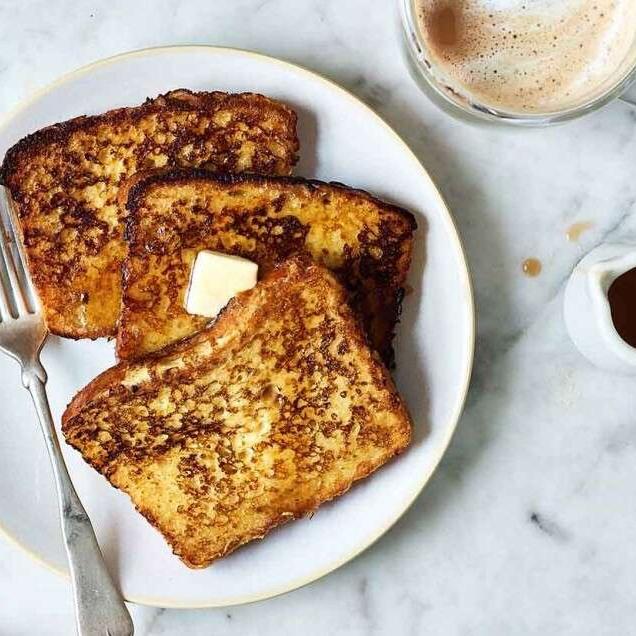 6 servings

25 mins

6 to 8 mins

My Rating: ★★★★
Ingredients
1 tablespoon (14g) butter
1 tablespoon (11g) vegetable oil
6 to 8 slices bread, somewhat stale
3 large eggs
3/4 cup (170g) cream, heavy, whipping, or light; or eggnog, for a holiday breakfast (199g)
pinch of salt
1/4 teaspoon nutmeg
2 tablespoons (25g) sugar
2 tablespoons (28g) rum, optional
1 teaspoon vanilla extract
Directions
Preheat the oven to 250°F. Line a baking sheet with parchment paper, and set aside. Place 1 tablespoon each butter and vegetable oil in a heavy skillet, and set it to heat over medium heat. Alternately, heat an electric griddle to 300°F.

In a small bowl, whisk together the eggs, cream, salt, nutmeg, sugar, rum, and vanilla. Stir until smooth but not foamy. Pour the batter into a shallow casserole dish large enough to hold two pieces of bread snugly.

Place two pieces of bread in the pan; let them soak for about 30 seconds, then turn them over, and let soak for about 30 seconds on the other side. You want the bread to absorb some of the liquid, but not to become soggy.

Place the bread in the skillet or on the griddle, and fry until both sides are golden brown; this should take about 2 minutes each side.

Transfer the French toast to the baking sheet, and place it in the preheated oven. Allow it to remain in the oven while you cook the remaining pieces.

When all the pieces are cooked, serve the French toast with soft butter and maple syrup. Or dust it with confectioners' sugar or cinnamon-sugar.

Tips from our Bakers

Want to make a delicious holiday version of this recipe? Substitute eggnog for the 3/4 cup cream called for in the recipe.

Ordinarily you'd consider 2 to 3 pieces of French toast a single serving, but this particular recipe is so rich, and each slice of bread is big and thick enough, that we consider one piece a serving, particularly if you add fresh fruit and/or some breakfast ham, bacon or sausage.
Notes
Dont cook to black, lower heat
More delicious recipes