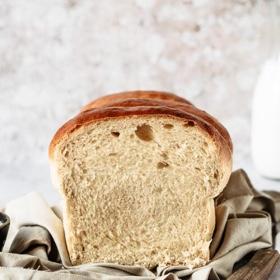 Ingredients
For the Tangzhong (water roux):
3 tablespoons Bread flour – 25 gr
3.5 fl. oz Water – 100 gr
For the bread:
1 2/3 cup Bread flour – 320 gr
1.5 tablespoon Brown sugar – 30 gr
1 teaspoon Salt – 5 gr
2.5 teaspoons Dry yeast – 5 gr
2/3 cup Warm milk (at 35-40° Celsius) – 120 gr
1 tablespoon Condensed milk (or milk powder) – (optional) – 5 gr or more
Half Beaten egg – 25 gr
2 tablespoons High quality butter (softened, not melted) – 25 gr
To brush the top:
Milk
Half Beaten Egg
Directions
For the Tangzhong (water roux):

In a pan, combine water and flour and whisk. Then place it over medium-low heat on the stove and keep whisking with a spatula, until you get a thick gel-consistency mixture (and it reaches 65°C which is 150°F)

Pour it onto a plate, cover with plastic wrap and let it cool at room temperature.

For the bread:

Into your stand mixer's bowl, combine flour, sugar, salt and activate. Then add yeast and warm milk (ideally at 35-40° C / 95°-104°F).

Gradually add the beaten egg, condensed milk (or powdered), Tangzhong and let everything incorporate.

Add the softened butter and let knead for about 20 minutes.

Place the dough into a bowl and cover with plastic wrap, let it rise for 50 minutes in a warm place.

After the dough has doubled in size, gently press it to degas it.

Divide it into 3 equal pieces and roll them into balls (like this). Cover and let them rise for 15 minutes.

After 15 minutes, take the 3 balls and roll them like Umi does in this video (it's easier for you to watch this rather than reading how to do it!) – click here.

Put the balls into a loaf pan (grease it if necessary. I used a paper pan like this so I didn't grease it) and let rise for 40 minutes.

Want to make buns? Instead of dividing in 4 balls, divide it into 8/10 balls, then let rise for 45 minutes.

Preheat the oven at 180°C (350°F).

Combine milk and egg, then brush the your bread and bake for about 20 minutes or until it gets puffy, and golden brown.

As soon as you take it out of the oven, brush it with more milk.

Let it cool down onto a cooling rack.

This bread surprisingly lasted a few days and it was so good after 5 days! Store it in an airtight container.
Notes
** Recipe adapted from Umi's Baking recipe. Check out his recipe for a milk powder version.
WANT TO MAKE BUNS? Divide the dough into 8 little balls, instead of making one big loaf. Bake, let cool. Freeze them and then defrost them when you need them.
More delicious recipes