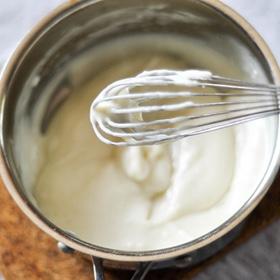 Ingredients
For the filling:
6 tbsp unsalted butter, very soft
1/2 c sugar
3 tsp cinnamon
1/3 cup finely chopped peanuts
For the Glaze:
1/3 cup condensed milk
1 cup powdered sugar
1 1/2 tbsp milk
Butter 2X 9" cake pans
Directions
in a small bowl, mix the sugar, cinnamon and chopped peanuts together until combined.

Once the dough has had its first rise. Punch it down to let out the air. Then divide the dough in half. Put one half aside to be shaped later.

Roll one half of the dough out to a large rectangle about 16X8"

Spread the 3 tbsp of soft butter all over the dough, making sure to cover as much area as you can.

Sprinkle the Cinnamon sugar and peanut mixture all over the top of the buttered dough.

Then starting on one side of the long end of the dough, start to roll. Roll the dough into a log pulling backwards every once in a while to ensure a tight roll.

Place the log seam side down and mark off 2 inch segments. Cut the log into rolls. I used a bench scraper to do this, but I've heard that unflavored dental floss also does the trick! Place the rolls in the prepared cake pans face up.

Do the same with the second piece of dough.

Cover and allow to rise in a warm place for an hour, or until puffy and are touch on another.

Pre heat the oven to 350F

Brush the tops of the rolls with whole milk. Bake for 20-25 minutes.

While baking, make the glaze. Whisk the powdered sugar into the condensed milk. Add the milk 1 tablespoon at a time to loosen up the glaze to the desired consistency.

While the rolls are still warm, Pour or spread the glaze over the top. Serve warm!
More delicious recipes