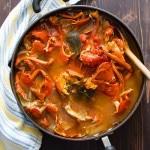 Servings 8

15 minutes

50 minutes
Ingredients
claws head, empty carapace of 2 steamed lobsters, cut into 3" pieces
4 large cloves garlic chopped
1 large onion chopped
1 stalk celery chopped
2 bay leaves
6-8 sprigs thyme
1 teaspoon fennel seed lightly crushed
dash red pepper flakes
3 tablespoons olive oil
1 14- ounce can crushed tomatoes in their own juice
2 cups white wine dry
6 cups water
Directions
In an extra large skillet with 3-4 inch side, heat olive oil over medium heat. Add the onion, celery and garlic and cook until vegetables are tender and fragrant – do not brown the vegetables and remove from heat if they do start to take on color.

Add the bay leaves, thyme, fennel seed, red pepper flakes and lobster shells – stir to combine and cook over medium heat for 5 minutes stirring occasionally.

Stir in the tomatoes and white wine and turn up the heat to medium high. Bring the liquids to a boil and cook for 2-3 minutes, then stir in the water, heat the mixture almost to a boil, cover tightly with a lid, reduce the heat to a simmer and cook for 40-50 minutes, stirring occasionally.

Place a standard mesh strainer over a large bowl. In batches, transfer the shells, vegetables and broth to the strainer, pressing on the solids with the back of a spoon to get all of the liquids and juices out of them. Discard the solids. Set a fine mesh strainer over another large bowl or an extra large measuring cup. Pour the liquid through the fine mesh strainer, pressing and stirring with the back side of a spoon. Discard solids. Makes 6-8 cups of stock.

Stock will keep for up to 5 days in the refrigerator or up to 3 months, frozen.
More delicious recipes