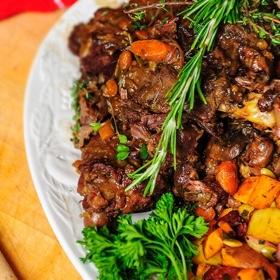 Ingredients
Raccoon Stew
1 brined raccoon, cut into pieces (brine recipe here)
1 cup carrots
1 large onion, diced
1 tart apple, diced
1 ½ cups mushrooms
4 cups vegetable or chicken stock
1 bottle stout beer
1 1/2 tbsp flour
1-2 tbsp olive oil
4 cloves garlic
2 sprigs rosemary
10 sprigs thyme
small bunch parsley
Sweet Potato, Apple, and Bacon Hash
1 large sweet potato, peeled and diced
6 strip streaky bacon, diced into lardoons
1 granny smith apple diced
1 honey crisp apple, diced
1 large onion, diced
8 sprigs thyme
½ cup pepitos
5 scallions sliced thin
olive oil
1-2 tbsp whiskey
Directions
braised-raccoon-prep

Remove the quarters from the brine and break down into workable parts. I have left the meat bone-in.

braised-raccoon-prep

Quickly brown all sides in some olive oil. You do not want to cook through. That will be accomplished in the braising. I like browning on a cast iron skillet heated to smoking on a hot grill.

braised-raccoon-prep

After searing the raccoon will have nice brown bits that will add richness to the stew.

sauted-veggies

Sauté the vegetables in a Dutch oven, pour in the imperial stout, and toss in the fresh herbs.

browned raccoon meat

Add in the browned raccoon and vegetable or chicken stock.

braised-raccoon-meat

Cover and simmer until the raccoon is falling off the bone. 1½ -2 hours

braised-raccoon-prep

While the raccoon is braising to it's tender and moist perfection, go ahead and prepare the ingredients for the sweet potato hash.

sweet-potatoes

When you are about 30 minutes from serving the braised raccoon, toss the diced sweet potatoes with olive oil, salt, pepper, some sprigs of thyme and pop in a 400-degree oven. Roast until tender, but not mushy. Remove and set aside.

bacon-lardoons

Sauté the bacon lardoons rendering some of the fat before adding diced onion and apple. Cook until tender. Toss on the sliced green onion, and hit with a drizzle of whiskey if you are so inclined. Add in the reserved roasted sweet potatoes and sprinkle with pepitos.
More delicious recipes