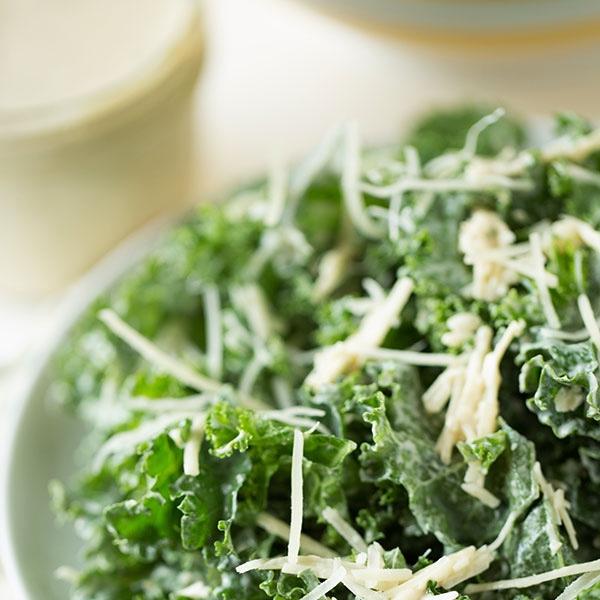 Yield 4 to 6 servings

1 hour
Ingredients
FOR THE CROUTONS (OPTIONAL):
1 small (or 1/2 large) day-old loaf peasant-style crusty bread
FOR THE SALAD:
12 to 16 ounces green kale and romaine lettuce hearts, in roughly equal amounts
1 large or 2 small garlic cloves
4 to 6 anchovies
1 teaspoon Dijon mustard, more to taste
Salt and freshly ground black pepper
½ cup extra-virgin olive oil, more to taste
2 tablespoons freshly squeezed lemon juice, more to taste
1 egg
4 ounces freshly grated Parmesan, plus an extra chunk for serving
Directions
Make the croutons: Heat oven to 400 degrees. Pull the soft bread out of the center of the loaf, leaving the crust behind, and tear the soft bread into bite-size pieces. You should have about 3 cups. Spread pieces on a rimmed baking sheet and bake for about 12 minutes, until golden and crisp. Let cool.

Prepare the kale: One large leaf at a time, use the tip of a small, sharp knife to cut along the sides of the tough center ribs. (Or, use your fingers to pull the leaves off the rib.) Pull out the rib and discard. When all leaves are trimmed, cut into bite-size pieces. (Do not shred.)

Prepare the romaine: Cut large leaves crosswise into bite-size pieces. Leave inner leaves whole.

Fill a sink or salad spinner with very cold water and submerge the leaves. Swish and let soak 5 to 10 minutes. Working in batches, lift out and drain on a kitchen towel, then dry in a salad spinner.

Place a plastic bag filled with ice in the bottom of a salad bowl. Pile the washed leaves on top, cover with a damp kitchen towel and refrigerate until ready to serve.

In a blender (or using a hand blender), combine the garlic, anchovies, mustard, a large pinch of salt, about a dozen grinds of black pepper, olive oil and lemon juice. Blend until smooth.

Cook the egg: Poach in simmering water or in a microwave, until yolk is thickened but still runny. (To poach in a microwave, break egg into a glass bowl or measuring cup. Gently pour in warm water to cover the egg by about 1/2 inch. In bursts of 30 seconds or less, depending on microwave power, cook egg until white is just firm and yolk is thickened. Hold a slotted spoon over the sink and pour the egg and water into it, so the cooked egg is held in the spoon while the cooking water and any uncooked whites drain off.) Put the egg in the dressing and blend.

Taste and adjust the seasonings with mustard, oil, lemon, salt and pepper. It should be pungent and sharp but not acidic. Blend again, transfer to a container with a tightfitting lid, and chill until ready to use.

When ready to serve (or up to 2 hours beforehand), remove towel and ice from the bowl and fluff the greens. (If necessary, transfer to a larger bowl; you will need plenty of room for tossing.) Shake the dressing. To the greens, add half the croutons, half the dressing and half the cheese and toss well. Taste and toss with remaining dressing as needed. (If necessary, transfer the tossed salad back to the salad bowl.) Add remaining croutons. Sprinkle remaining grated cheese over the top and grind coarse pepper over that. Serve immediately (or refrigerate for up to 2 hours). Toss once more at the table.
More delicious recipes