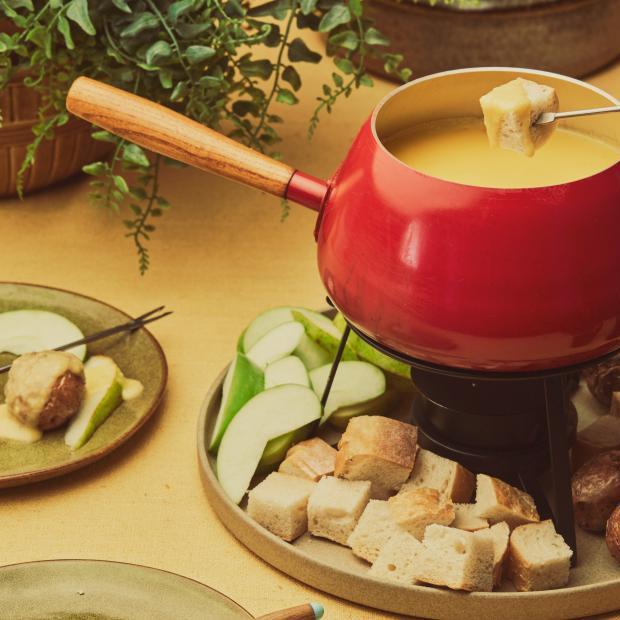 Serves: 12+ servings

15 minutes

15 minutes
Ingredients
1 clove garlic, cut in half
1½ cups dry white wine (Chablis, e.g.)
Splash of kirsch (about 1 Tbsp) - can substitute with brandy, cognac, or sherry
1 Tbsp lemon juice
1/2 lb Swiss Emmentaler cheese (can substitute with Jarlsberg)
1/2 lb Gruyère
1/4 lb Raclette
1 Tbsp. flour
fresh ground pepper and nutmeg
2 loaves of crusty Italian or French bread
Steamed vegetables, cut apples, cooked sausages, and more for dipping!
Directions
COOKING (~15 MINUTES)

Rub the inside of your warming pot with cut garlic clove. Place on stove, pour wine and kirsch into pot, and heat over medium flame until bubbles rise lazily (not boiling).

Add lemon juice and handfuls of cheese, stirring constantly with a wooden spoon (slashing crosswise so cheese doesn't ball up) until cheese is melted and the mixture has the appearance of a light, creamy and smooth sauce. Add pepper and nutmeg to taste.

Bring to a very slow boil, then remove pot from stove and place atop lighted burner at table. Adjust flame of burner so fondue continues bubbling very lightly. Thin the mixture with a bit of heated white wine as necessary.

Enjoy fondue with crusty bread, steamed vegetables, cooked sausages, and more! In our opinion, nearly anything can be dipped in fondue!
More delicious recipes