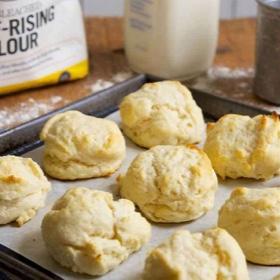 12 biscuits

5 mins

10 mins
Ingredients
1 1/2 cups (170g) King Arthur Unbleached All Purpose Flour
2 ¼ teaspoons baking powder
3/4 cup (170g) heavy or whipping cream
1/3 teaspoon salt
Directions
Preheat the oven to 450°F, with a rack in the top third.

Mix the flour and cream until smooth and cohesive.

Scoop 1-ounce balls of dough onto an ungreased or parchment-lined baking sheet; a tablespoon cookie scoop works well here. Leave a couple of inches between them. Not into scooping? Pat the dough 3/4" thick and cut biscuits with a cutter instead, if desired.

Brush the tops of the biscuits with cream, milk, or water; this will help them rise.

Bake the biscuits for 10 minutes, until they're light golden brown on top, and baked all the way through; break one open to make sure.

Remove the biscuits from the oven, and serve warm, or at room temperature. Store, well-wrapped, at room temperature for several days; freeze for longer storage.

Tips from our Bakers

Want to make these biscuits gluten-free? Substitute Gluten-Free Measure for Measure Flour for the all-purpose flour; and stir 2 1/4 teaspoons baking powder and 3/8 teaspoon salt into the flour before adding the cream.

Feel free to stir the additions of your choice into the dough. Berries, cheese cubes, crumbled bacon or diced ham, chopped scallions, chocolate chips, dried fruit… use your imagination!

To make now, serve later, place shaped/unbaked biscuits close together on a small baking sheet; place the sheet in the freezer, and freeze until solid. Transfer the biscuits to an airtight container (plastic bag, etc.) When you're ready to serve, there's no need to thaw the biscuits; remove them from the freezer and bake as directed above, adding a few minutes to the baking time.

For larger biscuits, simply scoop the dough into 1 1/2-ounce balls, to make 8 biscuits; or 2-ounce balls, to make 6. Bake the larger biscuits a minute or so longer, or until they're baked all the way through.

These biscuits are a blank palette, just waiting for you to stir your favorite additions into the dough.

To make Self-Rising Cream Shortcakes: Add 2 tablespoons sugar and 1 tablespoon vanilla.

To make Never-Fail Biscuits with Herbs: Add 3 tablespoons fresh herbs.

To make Easy Bacon-Cheddar-Chive Biscuits: Add 1/2 cup chopped cooked bacon, 3/4 cup chopped sharp cheese, and 3 teaspoons snipped chives.

To make Easy Pumpkin Pie Spice Biscuits: Add 2 tablespoons sugar and 1 1/2 teaspoons pumpkin pie spice.

To make Easy Sausage and Apple Breakfast Biscuits: Add 3/4 cup each cooked, crumbled sausage and peeled, cored, diced apple; plus 1 teaspoon cinnamon.
More delicious recipes