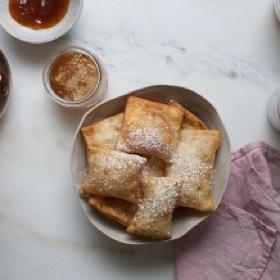 Ingredients
2 cups all-purpose flour
1 tablespoon baking powder
1 tablespoon granulated sugar
2 teaspoons kosher salt
1 tablespoon honey
3/4 cup whole milk
Shortening (or canola oil, peanut oil or lard, for frying)
Directions
In a large bowl, whisk together the flour, baking powder, sugar and salt. Next, create a well in the center of the dry ingredients and pour in the honey and whole milk. Using a spoon or your hands, mix the dough together until it forms a sticky mass. Cover the bowl with a clean kitchen towel and allow the dough to rest for about 20 minutes.

I know frying this is a bit of a bummer but I'll say that with these it's needed and worth it. Since I had shortening leftover from my first batch of dough, I used it to fry these sopapillas; canola oil or peanut oil or lard will also work. In a cast iron skillet (or medium pot), add enough fat so it reaches 3-inches up the sides of the skillet/pot. Heat up your oil to around 300 degrees. (Right before we fry them off, we'll heat it up even further.)

Lightly flour your work surface and rolling pin. If the dough is at all sticky (it shouldn't be after it rested) feel free to sprinkle it with a bit of flour so it doesn't adhere to the surface. Dump the dough onto the counter and roll the dough into a thin (1/8-inch thick) square. (It doesn't have to be a perfect square either, just do your best.) Cut the sopapillas into 4 x 3-inch rectangles. Again, the measurements don't have to be exact, you can definitely eyeball this.

Before you fry them up, be sure to get your honey ready. Line a baking sheet or plate with a few layers of paper towels or clean kitchen towel. Heat the oil up again to 375 degrees F. Drop the sopapillas in the hot oil, frying two to three at a time, for about a minute, flipping them over at the halfway point. (If they don't puff up, they'll still be tasty! But it may mean the dough isn't rolled thin enough.) They should be very lightly golden brown—not too crispy, they will harden when they cool. Transfer them to the bed of paper towels to drain. Repeat with the remaining sopapillas.

These taste best straight from the fryer to a plate to being consumed but if you want, you can keep the sopapillas warm in an 200 degree pre-heated oven while you fry up the rest. Serve them alongside some honey and apricot preserves.
More delicious recipes