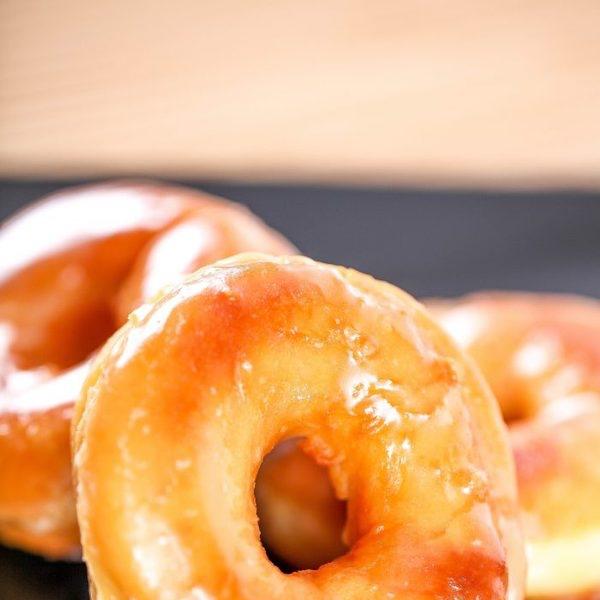 Yield 12 servings

1 hour

20 minutes

My Rating: ★★★★★
Ingredients
Doughnuts:
2 packet yeast ¼ ounce packets
1/4 cup warm water 105-115 degrees
1 1/2 cups lukewarm milk scalded, then cooled
1/2 cup sugar
1 teaspoon salt
2 eggs
1/2 cup shortening
5 cups all-purpose flour
4 cups vegetable shortening or vegetable oil if you would prefer for frying
Glaze:
2 1/2 cups confectioners' sugar
1/4 cup milk
1/4 cup light corn syrup I make my homemade corn syrup in my [url:2]Caramel Popcorn recipe[/url]
Directions
Add water and yeast together in a your stand mixer and set aside for 10 minutes.

Add in the milk, sugar, salt, eggs, shortening and 2 cups of the flour.

Turn the stand mixer on medium speed for 2 minutes, then add in the rest of the flour and mix until just combined.

Take the bowl out of the stand mixer and cover with a clean towel to let it rise for 1 hour.

When you can push down on the dough and your fingerprint stays you're ready to move on to the next step.

Working with half the dough at a time, roll it to ½ inch thick on a floured surface.

Dip your doughnut cutter in flour and cut out a dozen doughnuts with each half of the dough and out onto wax paper.

Let rise, covered, in a warm spot for 30-45 mins (I did 45)

In a cast iron pan or other deep saucepan, heat the vegetable shortening to 375 degrees.

Please use a thermometer to measure the temperature as this is a critical step.

Fry the doughnuts on each side for 90 seconds.

Drain on a cooling rack until you finish cooking them all then dip into the glaze.

To make the glaze, add the powdered sugar, milk and corn syrup to a bowl and microwave for 30 seconds.

Most importantly, eat with reckless abandon.
More delicious recipes