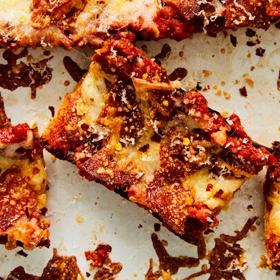 Yield 4 servings

20 minutes
Ingredients
FOR THE SAUCE:
1 (14-ounce) can petite diced tomatoes, drained
1 garlic clove, grated
½ teaspoon kosher salt (Diamond Crystal)
½ teaspoon dried oregano
1 tablespoon olive oil
A few grinds of black pepper
FOR THE PIZZA:
¼ cup olive oil
2 garlic cloves, grated
1 loaf soft French bread, split lengthwise, insides mostly dug out
4 ounces mozzarella, low-moisture and part-skim, or fresh (drained and patted dry, if necessary), grated or torn (about 1 cup)
2 tablespoons grated Parmesan, plus more for serving
2 ounces sliced pepperoni, quartered (about 1/2 cup)
Red-pepper flakes or dried oregano, or both, for serving
Directions
Make the sauce: Heat the oven to 450 degrees with a rack in the middle position. Combine tomatoes, garlic, salt, oregano, olive oil and black pepper in a medium bowl, and stir to combine. Set aside until ready to use.

Prepare the pizza: Combine the 1/4 cup olive oil and garlic in a small pot over medium heat. Cook, swirling occasionally, until the garlic starts to sizzle, but doesn't brown, about 2 to 4 minutes. Remove from heat.

Place the French bread cut side up on a baking sheet. Brush cut sides with garlic oil. Bake until edges are golden, 5 to 7 minutes.

Toss together the mozzarella, Parmesan and pepperoni in a medium bowl. Divide tomato sauce between the two bread halves all the way to the edges and top with pepperoni and cheese.

Return to the oven and bake until melted, about 5 minutes. Increase heat to broil and broil (watch carefully!) until the cheese is bubbly and browned in spots, 1 to 2 minutes more. Let cool 5 minutes before slicing and serving. Serve topped with more Parmesan, red-pepper flakes and oregano, if you like.
More delicious recipes