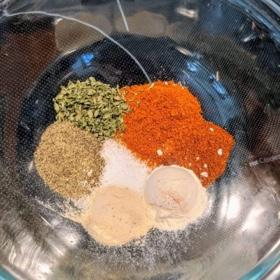 Ingredients
3 teaspoons salt
2 teaspoons paprika*
2 teaspoons brown sugar
1.5 teaspoon black pepper
1 teaspoon onion powder
1 teaspoon garlic powder
1 teaspoon dried thyme
½ teaspoon cayenne pepper (optional, but recommended)**
Directions
Combine ingredients in a small bowl and mix well. Apply to your favorite meat before cooking.
Notes
*Smoked paprika is great, if you have it on hand! Otherwise, use normal paprika.
**If you don't like spicy foods, add just a dash of cayenne pepper instead of the amount called for.
More delicious recipes