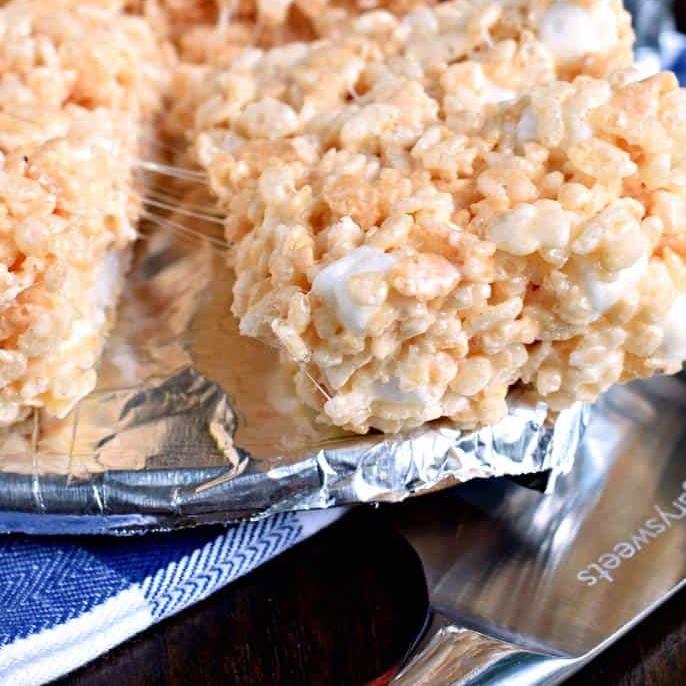 9 large bars

5 minutes

5 minutes

My Rating: ★★★★★
Ingredients
6 Tbsp unsalted butter
16 oz bag mini marshmallows, divided
1 tsp pure vanilla extract
6 cups rice krispies cereal
Directions
Line a 9-inch square baking dish with parchment paper. Set aside.

In a large saucepan, melt butter over medium heat. Once melted, add in all but 1 cup of the marshmallows. Reduce heat to low and continue stirring until completely melted.

Remove from heat and stir in the vanilla. Add the cereal and the remaining 1 cup of marshmallows.

Pour into the prepared baking dish. Press GENTLY with your fingertips just until completely spread out (the harder you pack them in, the harder they are to eat).

Allow to set, about 1 hour. Cut and enjoy!
Notes
Why do my rice krispies treats get hard?A: Could be many factors. Starting with stale marshmallows or cereal. Keep heat on low while adding marshmallows. And finally, do NOT press too firm when you're adding the treats to the pan.
Do these treats need to be refrigerated?A: Absolutely NOT. It actually could make them hard as well (see above question). Keep them covered at room temperature for best results.
Can I use other cereal?A: Yes! Cocoa Krispies and Fruity Pebbles are both great options. You could also use Cheerios, Golden Grahams, and Cinnamon Toast Crunch!
More delicious recipes