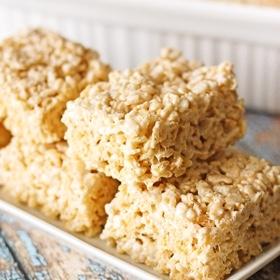 Serves: 15

3 minutes

2 minutes
Ingredients
1/2 cup salted butter if using unsalted butter, add a dash of salt to the recipe
16 oz mini marshmallows
9 cup crispy rice cereal (i.e. Rice Krispies Cereal)
Directions
Place butter and marshmallows in a LARGE microwave-safe bowl.

Microwave on high for 1 minute. Remove bowl from microwave and stir. Return bowl to microwave and microwave another 30 seconds. Stir again until marshmallows and butter are completely melted together. You only want it JUST melted.

Fold in rice cereal until well combined.

Place mixture in a greased 9x13 dish and press down evenly (spray a little cooking spray on your hands to prevent sticking). Allow to cool before serving.
Notes
*If you don't have a large microwave-safe bowl, melt the marshmallows and butter in a medium-sized bowl and place rice krispies in a large bowl. Add the melted marshmallow mixture to the rice krispies instead of adding the rice krispies to the marshmallows. See video for clarification.
Though these can be served immediately, they taste best when cooled to room temperature.
More delicious recipes