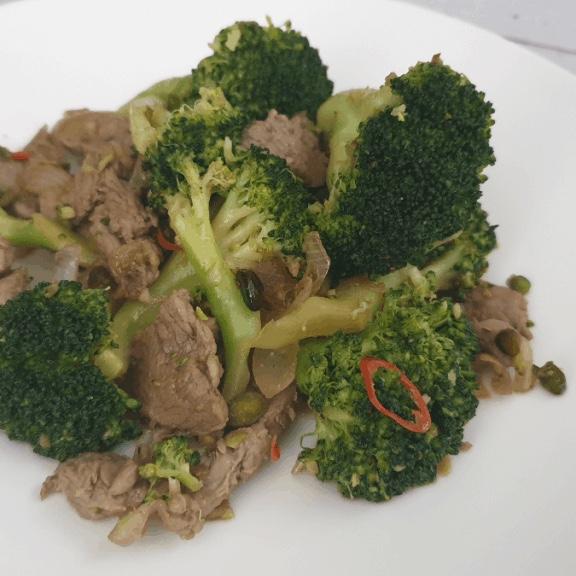 Yield: 2 servings

5 min

7 min
Ingredients
2 tablespoons extra-virgin olive oil, 2 turns of the pan
1 tablespoon butter
2 tablespoons all-purpose flour
1/2 cup chicken stock
1/2 pound thinly sliced veal scallops
Salt and freshly ground black pepper
1 ripe lemon, zested and juiced
A handful of fresh flat-leaf parsley, finely chopped
1/4 cup water
10 ounces broccoli rabe
1 garlic clove, chopped
1/4 to 1/2 teaspoon grated or ground nutmeg
Directions
In a skillet over moderate heat, combine oil, butter and flour. Cook 2 or 3 minutes. Whisk in broth. Add the sliced veal in thickened sauce 3 or 4 minutes and transfer to a warm platter. Season veal with salt and pepper. Add lemon zest, lemon juice and chopped parsley to the sauce and remove pan from heat.

Heat water for broccoli rabe. Blanch until just cooked but still crispy. Drain broccoli rabe. Place a second skillet over medium high heat. Add extra-virgin olive oil, garlic, and broccoli rabe and cook until tender. Season with salt, pepper and nutmeg.

To assemble, divide broccoli rabe between 2 dinner plates. Top with veal and pour pan sauce equally over the 2 plates.
More delicious recipes