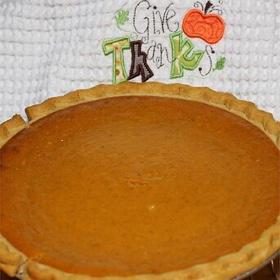 Servings: 8

10 mins

50 mins
Ingredients
2 large eggs eggs
1 (16 ounce) can pumpkin puree
1 (14 ounce) can sweetened condensed milk
1 teaspoon pumpkin pie spice
1 (9 inch) unbaked pie crust
Directions
Preheat the oven to 425 degrees F (220 degrees C).

Combine eggs, pumpkin puree, sweetened condensed milk, and pumpkin pie spice in a large bowl and mix until combined.

Fit pie crust into a 9-inch pie dish; pour pumpkin mixture into the crust.

Place pie on a baking sheet and bake in the preheated oven for 15 minutes. Reduce heat to 350 degrees F (175 degrees C) and bake until filling is set, 35 to 40 minutes.
More delicious recipes