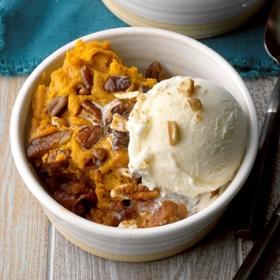 8 servings

20 min

prep: 20 minutes, cook: 4 hours
Ingredients
5 cups sliced peeled tart apple (about 4 medium)
1 cup fresh or frozen cranberries
1 cup packed dark brown sugar, divided
2 teaspoons ground cinnamon, divided
1 teaspoon vanilla extract
1/2 cup butter, softened
3 large eggs, room temperature
1 can (15 ounces) pumpkin
2 cups all-purpose flour
2 teaspoons baking powder
1/2 teaspoon baking soda
1/4 teaspoon salt
Chopped pecans, optional
Vanilla ice cream or whipped cream
Directions
In a 4- or 5-qt. greased slow cooker, combine apples, cranberries, 1/2 cup brown sugar, 1 teaspoon cinnamon and vanilla.

In a large bowl, cream butter and remaining 1/2 cup brown sugar until light and fluffy. Add 1 egg at a time, beating well after each addition. Beat in pumpkin. In another bowl, whisk flour, baking powder, baking soda, salt and remaining 1 teaspoon cinnamon; beat into pumpkin mixture.

Spread over apple mixture. If desired, sprinkle with pecans. Cook, covered, on high until bubbling around edges and cake is set, about 4 hours. Serve with ice cream or whipped cream.
More delicious recipes