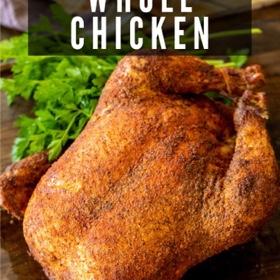 Ingredients
1 2-3 pound whole chicken
2 Tablespoons olive oil
2-3 Tablespoons Hey Grill Hey Signature Sweet Rub
Directions
Preheat your smoker to 225 degrees F.

Drizzle chicken with olive oil and season on all sides with the sweet rub. I don't recommend rubbing in your seasoning because it will just pull back on the skin and your seasoning will chunk.

Use butcher twine to tie the legs together and tuck the wing tips behind the shoulder joint.

Place your chicken directly on the grill grates on your smoker. Close the lid and smoke for 3 1/2 - 4 hours. Breasts should be about 160-165 degrees F. The thighs should be about 170-175 degrees F.

Baste with your favorite BBQ sauce during the last 30 minutes of cooking (this is optional). Also, if you want crispy skin on your chicken, increase the heat on your smoker for the final 8-10 degrees (aim for 375-400 degrees).

Once the chicken has reached the correct internal temperature, remove it from the grill, slice, and serve.
More delicious recipes