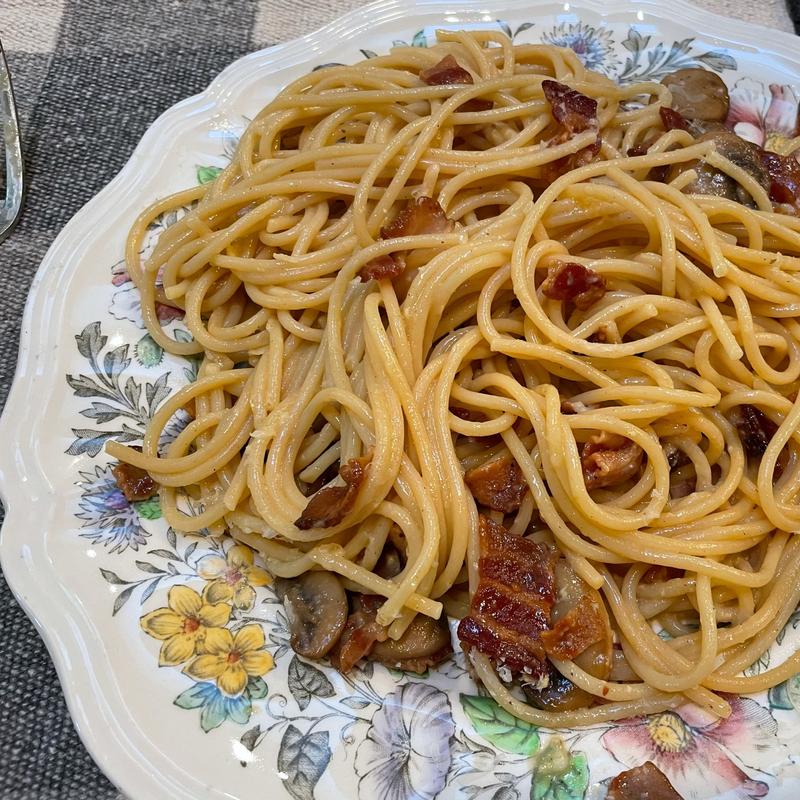 5 mins

15 mins

My Rating: ★★★★★
Ingredients
6 oz smoked bacon 170g, or traditionally pancetta or guanciale - can use a blend
8 oz spaghetti 225g, or linguini
1 clove garlic finely chopped
4 ½ oz mushrooms 125g, sliced
2 eggs
½ cup pecorino 10g, approx, freshly grated - can also use parmesan
Directions
If not already cut, dice the bacon/pancetta into relatively small pieces.

Warm a skillet or other relatively large, open pan and put the bacon in to cook, stirring now and then as it browns. Cook for a good 5min or so until it is starting to crisp.

Meanwhile cook the spaghetti according to the packet instructions, ideally al dente.

Remove the bacon from the pan and place on kitchen paper to drain.

Add the garlic and mushrooms to the pan with the rendered bacon fat and cook until tender - increase the heat if need be to remove excess liquid.

Whisk the eggs and add the grated parmesan/pecorino so it is well mixed through.

Drain the pasta once it is cooked, reserving some of the pasta water.

Remove the mushrooms from the heat and add back the bacon and add the pasta.

Pour over the egg mixture along with a little pasta water and mix through quickly so that it coats the pasta and cooks but without making scrambled eggs. Add a little more pasta water as needed to form a slight sauce but without being runny.

Serve with a little more cheese on top.
More delicious recipes