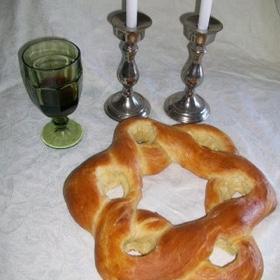 Ingredients
1 cup warm water (110° F)
1 pkg active dry yeast (or 2 1/4 tsp)
1/4 cup honey
2 Tbs oil
2 eggs (1 for the bread, 1 for the egg wash)
1 tsp salt
3 1/4 cups flour (plus a little extra for kneading)
Directions
Proof the Yeast

Proofing the yeast means we'll be adding it to the water and making sure it's alive and healthy. Yeast is a living organism that eats sugars in your dough and turns it into carbon dioxide. This causes your dough to rise as the carbon dioxide creates bubbles in your dough.

You'll need to heat your water to 110° F (45° C) to create a nice warm, but not too hot environment for your yeast to grow. Pour the water into your mixing bowl and sprinkle the yeast over the water. By sprinkling it we're allowing more of the yeast to come in contact with the water.

Let the yeast set for 10 minutes until it's nice and bubbly. If your yeast didn't get frothy, you may have a bad batch of yeast. If this happens, you should try again with a different pack of yeast, so you don't ruin your bread.

Mix Ingredients and Knead the Dough.

Now that your yeast is nice and bubbly, you can add the honey, oil, salt, 1 egg and 3 cups of the flour and mix well. We'll add the last 1/4 cup of flour as needed. (and you may even need a little more) Mix the dough until all ingredients are just holding together (add more flour if needed for this to happen) then drop the dough out onto a floured surface. Flour your hands and knead the dough, adding flour as needed so the dough is not sticky. Knead for a short time until it feels silky and no longer wet. There's no need to knead the dough for very long.

Set the dough in a warm spot and allow to rise until doubled in size, about 30-45 min.

Shaping the Bread.

You'll need your pan for this step. Oil it lightly.

Take your beautifully risen dough and cut it into 2 equal parts.

Roll out each piece of dough into equally shaped, long ropes.

Shape one rope into a triangle, directly onto your pan. Use the 2nd rope to make an inverted triangle over the first. I prefer to just set them on top of each other, but you could certainly weave these together if you wish.

Now take your aluminum foil and make 6 balls of foil. You don't want the foil balls to be too tightly packed. It'll be easier to remove them in the end if they aren't. Tuck one ball in each of the points of the star. These balls keep the bread from closing up the points when rising and baking.

Now we set our bread in a warm place and let it rise for a second time, until it doubles in size. 30 minutes should do it.

While you're waiting for it to rise, take out the 2nd egg to make your egg wash. Break the egg into a small bowl and add 1 Tbs of water to it and beat it well.

When your bread has finished rising brush the egg wash all over the top of the bread. If you don't have a pastry brush to do this, you can easily use a folded paper towel.

Preheat your oven to 350°, because the next step is to bake your creation.

Yummy Smells Fill Your House.

Bake the bread for 30 minutes or until it's nicely brown and sounds hollow when tapped.

Allow it to cool before attempting to remove the foil. I find it easiest to remove the foil by crushing it a bit (which is why I said not to make the balls of foil too tight) then pulling it out from the back of the loaf.

Mazel Tov! (congratulations) you're done!

Won't this make your Shabbos table look beautiful?

Enjoy!
More delicious recipes