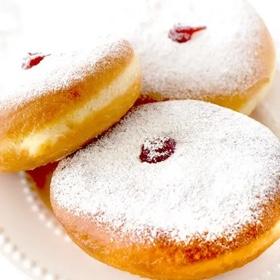 Yield: 16 servings

10 minutes

15 minutes
Ingredients
4 cups all-purpose flour (500 grams)
½ cup white sugar (100 grams)
1 tablespoon dry yeast
1 teaspoon salt
1/4 cup oil (60 milliliters)
2 eggs
¾ cup warm water (175 milliliters)
1 tablespoon vanilla extract*
Filling and Dusting
1 cup strawberry jelly (300 grams)
¼ cup powdered sugar (30 grams)
Directions
Place flour, sugar, yeast, and salt into the bowl of the stand mixer. Mix.

Add oil, eggs, water, and vanilla extract. Knead using a bread hook. Leave the dough to mix on low for 10 minutes, at the end of which it should be smooth but tacky. Add more flour if needed.

Move the dough to an oiled bowl. Cover with a towel or plastic wrap and let sit until double in size.

Place the dough on a well floured surface and sprinkle the top with flour as well. Roll the dough out until it is about 1/2 inch or 1.5 cm. Cutout circles using a 2'' or 3" cookie cutter dipped in flour.

Using a spatula, carefully remove the circles and place them on a floured tray. Take the remaining scraps and knead them together. Let sit for 5 minutes.

Repeat steps 4 and 5 until dough is used up. Sprinkle the circles with flour and cover with a towel. Set aside and let sit for 40 minutes in a warm place.

Heat the oil to 320°F to 340°F or 160°C to 170°C. If you do not have a thermometer, test the oil by placing a small piece of dough in it. If it sizzles and floats, the oil is hot enough.

Place 3 or 4 sufganiyot in the pot one at a time. Do not crowd. Let them simmer for 1 ½ minutes on each side until golden brown. Remove and set aside.

Using a squeeze bottle or a syringe filled with jelly, puncture a hole in the top and fill. Dust with sugar.
More delicious recipes