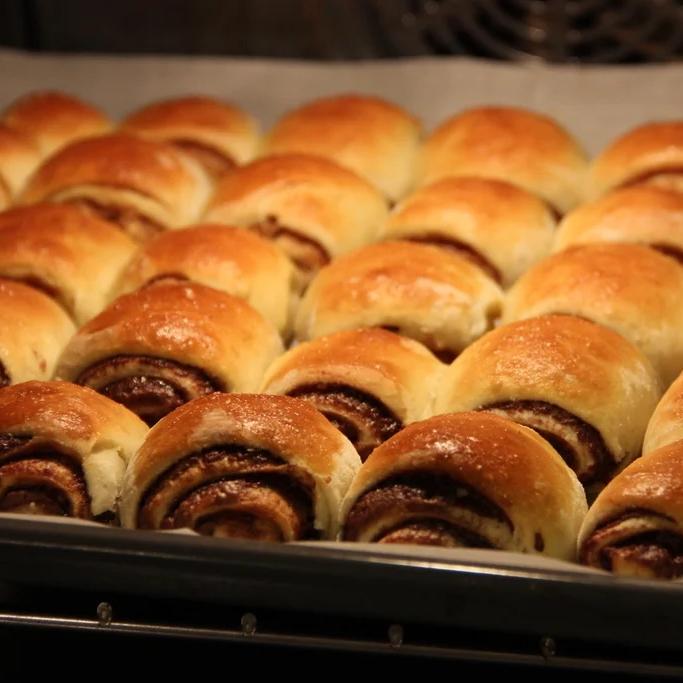 Ingredients
4 cup all-purpose flour
25g dry yeast
1 vanilla instant pudding
1 tbsp. brown sugar
1 1/2 cup milk
1 eggs
40g butter
1/2 tps. salt
Other Ingredients:
1 eggs
Nutella
Directions
Tools:

Large bowl

Clean kitchen towel

Rolling pit

Egg brush

TIP: Preheat the oven to 190°C

MIX

Mix all of the mentioned ingredients (for the dough) in a stand mixer for 5 minutes on speed level two and 7 minutes on speed level four.

The dough should be smooth after mixing and make sure it is not sticking to the bowl.

LET THE DOUGH RISE

Cover the dough and let it rest for a total of 30 minutes at 20-22°C

PREPARATIONS

While the dough rests we will prepare:

the surface on which we will place the rolls - place baking paper on a baking pan.

the surface on which we will work - sprinkle flour on a clean space.

Optional: play tic-tac-toe while waiting.

STATUS CHECK

Check if the dough rise double than it was.

Take out the dough and put it on the floured surface.

FILLING

Take a small piece of dough - in a size of a fist.

Roll down using the rolling pin.

Spread Nutella or Lotus Spread as you wish.

Gently roll the dough.

Cut the edges off and cut the rest into equal pieces.

Place in the baking pan.

EGG WASH

Scrumble an egg into a small bowl.

Use the egg brush and brush all the rolls.

BAKING TIME

Preheat the oven to 190°C

Bake for about 15-20 minutes or until golden brown.

DONE!

Finally, you can make a cup of coffee and enjoy!
More delicious recipes