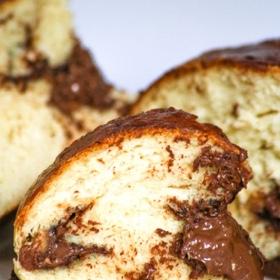 Serves: 2 loaves

40 mins

40 mins
Ingredients
Challah:
2 cups (404 grams) warm water, divided
¾ cup (164 grams) plus 1 tablespoon (14 grams) sugar, divided
4½ teaspoons (16 grams) active dry yeast
8 heaping cups (1351 grams) all purpose flour, divided
3 eggs, near room temperature, beaten
½ cup (110 grams) vegetable oil plus additional vegetable oil for greasing the bowl
2 teaspoons (15 grams) salt
1¼ cups (376 grams) Nutella
Egg wash:
1 egg
sugar for sprinkling
Directions
For the dough:

Into ½ cup warm water, add 1 tablespoon sugar. Stir until the sugar is dissolved. Add the yeast and let it proof for about 10 minutes. The mixture will bubble up and go to the top of the 1 cup mixing glass.

Lightly oil a large container with a lid, using vegetable oil. Set aside.

Place 7 heaping cups flour in the bowl of a stand-up mixer. Make a well and place 3 eggs in it. Add ¾ cup sugar, salt, ½ cup vegetable oil, 1½ cups warm water and the proofed yeast.

With the dough hook attachment, mix the ingredients together on low speed. While the mixer is running, gradually add in nearly all of the remaining cup of flour, about 5-7 minutes.

Turn out onto a floured board. Knead in remaining flour, keeping the board floured as you work. Place the kneaded dough into the greased bowl. Cover and let rise until the dough doubles in size.

Line a large baking sheet with parchment paper.

Push the dough down in the middle and fold over and into itself. Divide it into 2 even pieces.

Working half of the dough at a time, pull and press the dough between your hands to form a long rectangle. Spoon ⅔ of the Nutella down the middle of the rectangle leaving space on the edges. Lift the dough over the Nutella and pinch the seams together so the Nutella is wrapped inside.

Spoon the remaining Nutella down the middle of the dough leaving the ends plain. Starting at one of the long ends, roll the dough with the Nutella inside. Pinch the end seam into the dough.

Gently and quickly transfer the dough to the prepared pan with the 'rings' of the dough in the up/down position. If Nutella is peeking out of the top, gently pull dough over it. Don't worry about Nutella that is under the dough.

Repeat with the second half of dough.

Cover with plastic wrap and set aside for 30 minutes.

Preheat the oven to 350°.

Beat the egg in a small glass. Brush each loaf with the egg wash and sprinkle sugar over it. Bake the Nutella Challah at 350° for 40 minutes.

Use two large spatulas to transfer the bread onto cooling racks.

Betsy's tidbits:

Don't worry if Nutella falls out of the dough while baking. Simply spread it into one of the seams once the bread comes out.

This is delicious hot, warm or room temperature. When I bake the challah ahead of time, I warm it a bit in the oven before serving. Nutella Challah freezes beautifully.

The recipe is not temperamental in terms of timing for the long rise. I have been able to produce a wonderful bread with a two hour rise, but have also had days where I could not get back to it for several hours and I still ended up with a challah that was delicious.
More delicious recipes