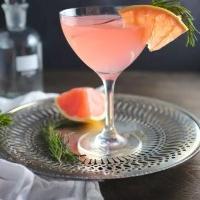 Ingredients
For rosemary syrup:
2 sprigs fresh rosemary (about 4-inches each)
1 cup granulated sugar
For cocktail:
2 oz vodka gin would work too
1 oz elderflower liquor recommended: St. Germain
1-2 oz pink grapefruit juice fresh squeezed and strained
1/4 oz lemon juice fresh squeezed
1/4 oz rosemary simple syrup (see below)
Directions
To make rosemary syrup

Add rosemary along with sugar and 1 cup water to a small saucepan. Bring to simmer and stir until sugar dissolves. Turn off heat and allow it to steep for 30 minutes until it cools. Remove rosemary and store in an airtight jar in refrigerator.

To make cocktail

In a mixing glass three-quarters filled with ice, combine all liquid ingredients. Stir until chilled, about 30 seconds. Strain into a chilled coupe glass. Garnish with a small slice of grapefruit or rosemary sprig.
More delicious recipes