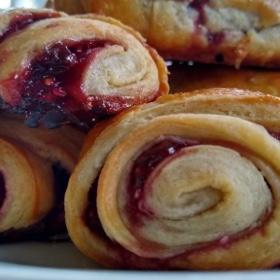 Ingredients
For the dough:
2 cups flour
½ tsp salt
½ tsp baking powder
2 sticks room temperature butter
1 cup full-fat sour cream or crème fraiche
1 tsp vanilla extract
2 egg yolks (reserve the whites to glaze the pastries)
For the filling:
18 oz raspberry jam
1 ½ cups golden raisins
1 cup chopped walnuts (or shredded coconut)
splash of orange juice
grated rind of ½ orange
dash of cinnamon
Directions
In a large bowl, mix the dry ingredients for the dough.

Cut the butter into 12 pieces (or more). Then cut the butter into the dry ingredients until the butter pieces are the size of pecan halves.

In another bowl, mix the vanilla, egg yolks and sour cream. Gradually stir into the dry ingredients until they just come together.

Form the dough into two balls, flatten into discs, then use your fingers to smear the small pieces of butter to create streaks through the dough. Turn the dough over several times, smearing the butter each time.

Form the dough back into two balls, wrap in plastic wrap, and refrigerate for 3-4 hours, or overnight.

For the filling, mix all ingredients in a bowl. Use enough raisins and nuts (or coconut) to achieve a mortar-like texture to prevent the filling from oozing in the baking process.

Preheat the oven to 350 degrees F.

Remove the dough from the refrigerator. Flour a surface and roll each ball out into ¼ inch thick rectangles. Slice each rectangle into four equal pieces. Spread filling evenly on each piece, leaving ¼ inch of room on the edges. Roll up, then brush egg white generously on top. Bake for 30 minutes.
More delicious recipes