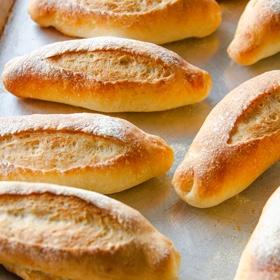 Ingredients
3 1/2 cups bread flour (approx 500 gr)
2 teaspoons salt (approx 15 gr)
2 teaspoons active yeast (approx 7 gr)
1 1/3 cups lukewarm water (approx 300 ml)
1 teaspoon sugar
Oil of your choice to grease bowl
Directions
In a medium-size bowl, mix flour and salt until combined. Make a well in the middle and add the yeast.

Pour a little bit of the water on top of the yeast and mix with a fork or with your fingers until dissolved, add the sugar and mix a little more. Add the rest of the water and using your hands, mix it in the bowl.

Pour out the dough onto a clean surface and mix with one hand (using the other hand to push the flour with the bench scraper) until all the ingredients are integrated, no more, please don't over mix. This will take about 5 minutes.

Form a ball. This ball will look and feel very rough and lumpy. Cover with plastic or a wet towel.

Place in a warm space away from drafts and let it rest until doubled in size. Depending on the weather and humidity, this can take 1-2 hours.

Remove the dough from the bowl and place it on a clean, lightly floured surface. Gently punch it and knead it for a few seconds, just enough to form a ball or roll.

Divide it into 8 pieces for 7-inch bolillos or into 16 pieces for mini-bolillos

Roll each piece to form balls, cover them, and let them rest for 20 minutes. This will help to relax the dough.

Flour a clean surface and start shaping the bolillos. Take one ball, turn it over, and with your fingers start rolling the dough tightly (see video above).

Fold edges toward the center and keep rolling. Then, with your pinky fingers, push and roll at the same time, about half an inch from the edges, to form the rounded ends of the bolillo.

Then, with your fingertips, push the center of the dough to flatten it a little. Repeat and place them in a baking sheet (you don't need to grease it).

Loosely cover with plastic wrap or a light kitchen towel and let them rest until double in size. Depending on the weather and humidity this can take between 1 and 1.5 hours.

Once they have doubled in size, pre-heat the oven to 450 °F (230 °C) and place the small baking sheet (or oven-proof container) with water in the lower rack of the oven.

Right before baking, sprinkle a little bit of flour on top of the bolillos, and, using a very sharp knife or razor held at a 45 degree angle, make a long cut from one side to the other. (I like using a serrated knife).

Finally, before placing them in the oven spray them with water. This is important, the water on top and the warm water in the baking sheet will create steam which will make that beautiful crust on the bolillo.

Bake for 20-22 minutes or until golden brown top and bottom. Take them out of the oven and immediately transfer to a cooling rack.
More delicious recipes