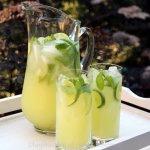 Ingredients
8 tbsp fresh lemon juice
4 tbsp fresh lime juice
16-32 mint leaves
8 cups of cold water
8-12 tbsp honey or sugar more or less to taste
8 to 16 ounces vodka about 1 to 2 cups, more or less to taste
Ice cubes
Lime or lemon slices to garnish
Directions
Place the quartered limes or lemons in the blender with 2 cups of water, sugar or honey, some ice, and half of the mint leaves.

Blend until the limes or lemons are crushed, the mixture should be slightly foamy with a whitish color.

Strain the lemonade and add the remaining 6 cups of water.

Stir in the vodka or allow guests to add the vodka according to their preference

Serve with ice and garnished with the remaining mint leaves and lime slices.
More delicious recipes