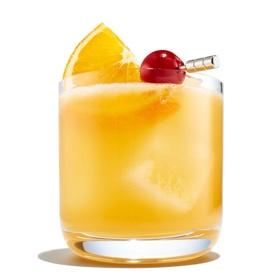 1 servings

My Rating: ★★★★★
Ingredients
2 ounces bourbon
¾ ounce fresh lemon juice
¾ ounce simple syrup
½ orange wheel (for serving)
Maraschino cherry (for serving)
Directions
Combine bourbon, lemon juice, and simple syrup in a cocktail shaker.

Fill shaker with ice, cover, and shake vigorously until outside of shaker is very cold, about 20 seconds.

Strain cocktail through a Hawthorne strainer or a slotted spoon into an old-fashioned or rocks glass filled with ice. Garnish with orange wheel and cherry.
More delicious recipes