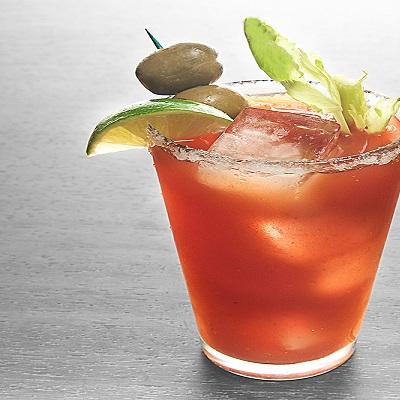 Ingredients
1 Lemon wedge
1 Lime wedge
2 oz Vodka
4 oz Tomato juice
2 dashes Tabasco sauce
2 tsp Prepared horseradish
2 dashes Worcestershire sauce
1 pinch Celery salt
1 pinch Ground black pepper
1 pinch smoked paprika
Directions
Pour some celery salt onto a small plate.
Rub the juicy side of the lemon or lime wedge along the lip of a pint glass.
Roll the outer edge of the glass in celery salt until fully coated.
Fill with ice and set aside.
Squeeze the lemon and lime wedges into a shaker and drop them in.
Add the remaining ingredients and ice and shake gently.
Strain into the prepared glass.
Garnish with a parsley sprig, 2 speared green olives, and a lime wedge and a celery stalk (optional).
More delicious cocktails