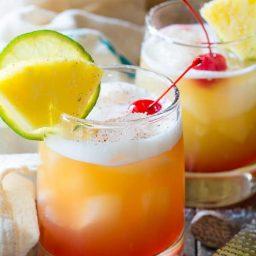 Ingredients
6 oz orange-pineapple juice blend
3 oz coconut rum
1 oz spiced rum
4-5 dashes bitters
Fresh ground netmeg
Maraschino cherries in juices
Lime slices
Fresh Pineapple wedges
Directions
Fill a cocktail shaker with ice and add the juice, coconut rum, spiced rum, and 4-5 shakes of bitters. Shake for 30 seconds.
Pour into 2 iced tumblers or one tall glass. Then pour in 1-2 teaspoons of cherry juice and let it settle at the bottom of the glass.
Garnish with a lime slice, pineapple wedge, and a cherry.
Zest fresh nutmeg over the top and serve!
More delicious cocktails