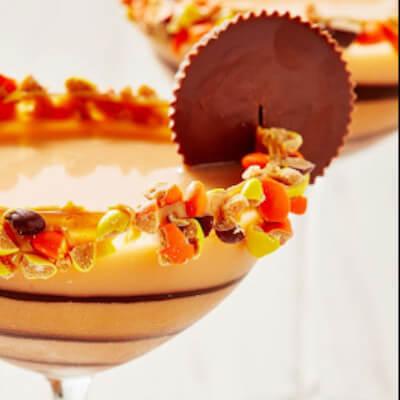 Ingredients
1 cup vodka
1/2 cup Reese's Pieces
1/2 cup ice
3 oz Reese's infused vodka
3 oz milk
2 oz Chocolate Liquer
1/4 cup Peanut Butter (optional, for garnishing the rim of the glass)
1/2 cup Crushed Reese's Pieces (optional, for garnishing the rim of the glass)
2 Reese's Cups (as garnish)
2 tablespoons chocolate syrup
Directions
Combine vodka and Reese's Pieces in a sealable container (for example a mason jar).
Cover with a tight-fitting lid and shake. Refridgerate overnight, then strain.
Fill a cocktail shaker with ice, then pour over strained vodka, milk, and chocolate liqueur. Shake until chilled.
Put peanut butter on one small plate and crushed Reese's Pieces on another.
Dunk tops of two cocktail glasses in peanut butter then roll in crushed Reese's Pieces.
Drizzle about a tablespoon of chocolate syrup into each glass. Divide cocktail mixture between glasses and garnish each with a peanut butter cup.
More delicious cocktails