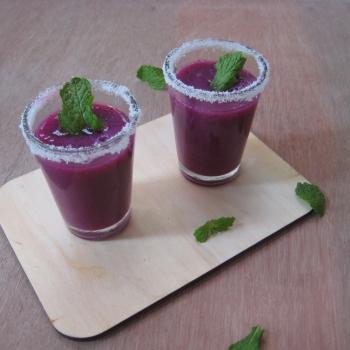 Ingredients
12 to 15 count Jamun
1.5 cup Chilled Water
1 teaspoon Lemon Juice
1 teaspoon Sugar
0.25 teaspoon Black Salt
1 or 2 Lemon Wedges
2 to 3 teaspoon Salt
Mint Sprig
Directions
Clean and de-seed the jamuns and take them in a blender.
Add sugar, black salt and 1 cup of water in the blender and blend together.
Pour it in a tall glass and add remaining water and lemon juice and mix well.
Spread the salt in a plate.
Rub the brim of shot glasses with a lemon wedge.
Next place each shot glass upside down in the salt. Salt will stuck on the edge of the glass creating a ring of salt.
Pour the drink in each glass and garnish with mint sprig.
Serve and enjoy!
More delicious cocktails