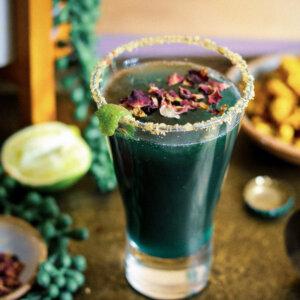 Ingredients
2.5 oz Bacardi Coconut Rum
1 oz Bombay Sapphire Gin
3/4 cup Ginger Beer
1 splash Midori Melon Liqueur
1 splash Blue Curaçao
1 splash Beet Juice
1/2 pc Lime (squeezed)
Directions
Grab a shaker and fill it with ice.
Pour in the Bacardi coconut rum, Bombay Sapphire gin, and lime juice. Give it a good shake then pour it into your cold glass.
Pour in the ginger beer then add the splash of midori followed by the splash of blue curacao and beet juice.
Top with rose petals and add in a lime peel.
Enjoy!
More delicious cocktails